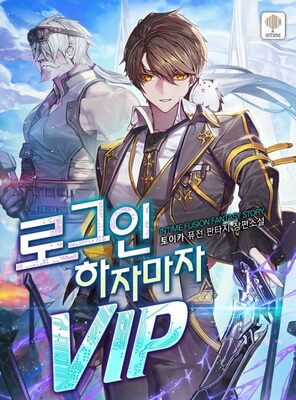 A VIP as soon as you Log In
로그인하자마자 VIP
book 254 Chapters supervised_user_circle 261K Views bookmark 551 Bookmarked Ongoing Status
A VIP as soon as you Log In novel is a popular light novel covering Action, Comedy, and Fantasy genres. Written by the Author Toika. 254 chapters have been translated and translations of other chapters are in progress.
Summary
The blacksmith Anvil created weapons alone in a ruined world.
He came across a community, a hero universe, where there are heroes of every dimension.
All the heroes wanted his weapons,
All the monsters hated him,
All the world blessed his existence
however nobody prevented his death.
Decades later, a dimensional invasion started on earth.
Kang Shin-hyuk, a boy who can't use mana inherited Anvil's VIP ID and memories.
Please share your thoughts to rate and score...
Bluejen
Started out okay, but again ruined by the women. It became so predictable after that. Seriously could not stop getting pissed off with the bloody women. I don't understand why a story like this can't be told without the annoying fricken women!!

shadowkillzlight
I love the story but hate the protagonist. he keeps making decisions that are way too cliché and i absolutely hate his personality. in my opinion its not worth reading