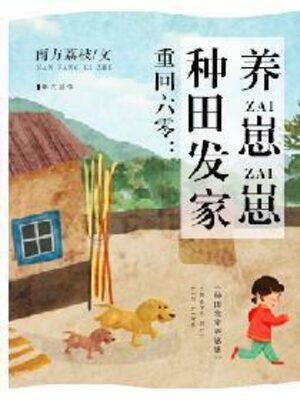 Back to the Sixties: Farm, Get Wealthy & Raise the Cubs
重回六零:种田发家养崽崽
347 Chapters 162K Views 245 Bookmarked Ongoing Status
Categories
Back to the Sixties: Farm, Get Wealthy & Raise the Cubs novel is a popular light novel covering Historical, Josei, and Romance genres. Written by the Author NanFangLiZhi. 347 chapters have been translated and translations of other chapters are in progress.
Summary
Lin Qing He transmigrated into the novel and became one of its cannon fodders. The novel's background is non-viable-1960s, time of want to eat but nothing to eat and want to wear, nothing to wear. Although the lack of supplies and life was monotonous, this wasn't what she was concerned about because she got a small personal interspatial space, which is stuffed with supplies, so temporarily no worries about basic needs.
What she's worried about, if she remembers correctly, her three so-called sons will become big villains in the future, and their upright and cold dad will end up in an indestructible end.
Lin Qing He looked at the three future villain sons, eldest who was only five years old, the second child was only three years old, and the third child was only one year old, and decided to give them half a big white bun first…
Please share your thoughts to rate and score...
kanjo
first of all,this is definitely slice of life novel.i totally recommend to someone who want to watch character development with slow pace .you might feel that it is boring at first yet it is gradually becoming interesting ,not so much dog blooded drama that will make you feel sick instead make you feel like"ahh this is life type" both fl and ml feel realistic base characters .raising cubs with a pit of romance .i will give this novel as slice of life type full marks .those who are foodie and slice of life fan should read this or maybe someone who is tired of heavy plotline, enjoy!!

yennemir
The story is very wholesome and heartwarming just like the other reviewer said. A little bit conflict here and there to spice things up in the right timing.

MC is a strong willed women that very much love her family. Superbly nice towards people who kind to her or her family, but beastly vicious if they cross her bottom line. Kinda reminds me of my mom :)

It's also quite history lesson for me, as i learn whole lot new things about chinese culture in that era. Overall nice novel if you want sit back, relax, and enjoy a wholesome story. Truly the embodiment of slice of life genre
WinteryCiel
This story is very heart warming. It describes the life of the MC after she transmigrated to the 60s/70s. Some may think the life events are repetitive but for me, I do not find it tiring. I love how she does not give a damn when people criticize her on her spendthrift habit, and even call her a family destroyer (as she wastes money). But actually the money she spent was used to cook hearty and nutritionous meals for her husband and children (this novel really makes me hungry as it decribes A LOT about food), buy warm beddings and even educational supplies. The interaction between MC and ML is sweet, you can say it is a model life of a married couple. MC cares about ML a lot, even their children are jealous 😂. Overall, it is a highly recommend piece!