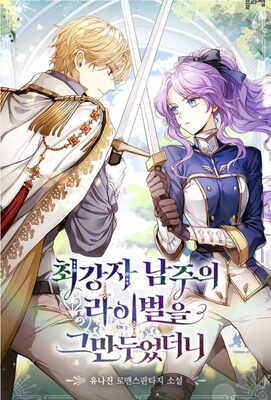 I Quit Being The Male Lead's Rival novel is a popular light novel covering Comedy, Drama, and Fantasy genres. Written by the Author Yunajin. 162 chapters have been translated and translation of all chapters was completed.
Summary
One day, as usual, Annabelle remembered the memories of her previous life.
It was revealed that she has been reincarnated as the second most popular character in a novel.
She also did all kinds of bad things to the male lead, and in the end, she is the person who will end up in prison!
'In the end, I'll get caught. It's crazy!'
Anabelle begins to save Ian from danger by intercepting the conspiracies that were laid out one by one to prevent her impending doom.
But in the process, she caught the attention of some unexpected people…
"Oh my, that's the spirit of chivalry our family pursues! I like that a lot!"
Ian's mother's eyes began to sparkle at her.
"Would you like to be my partner to the opera?"
After saving Ian, the prince keeps flirting…
"Ian, I've decided to quit being your rival and live a new life."
"A new life?"
"To stop paying attention to a man like you who's always up and down, marry a man with no character, and live a normal life."
"Who's the opponent? And why am I up and down?"
The male lead, Ian, keeps obsessing over me for some reason.
"Why do you not talk harshly to me these days…? Do it again."
Everyone just seems to be a little weird!