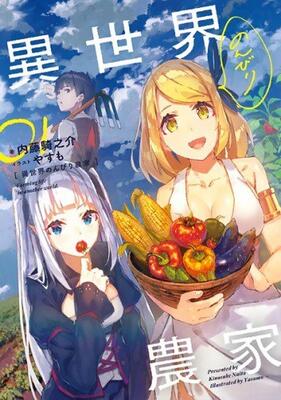 Isekai Nonbiri Nouka novel is a popular light novel covering Adventure, Comedy, and Fantasy genres. Written by the Author Kinosuke Naito. 491 chapters have been translated and translations of other chapters are in progress.
Summary
After his struggle against disease for a decade, the main character dies. However, he revives and became younger in a different world.
The main support of the main character's heart during his battle against the disease is a TV program about leisure farming.
In his second life in a different world, he's going to try farming.
Common things like different world transition and domestic affairs?
This will have no big climax.
This is going to be frantic.
Please share your thoughts to rate and score...
Viper
This novel is a bit different to the usual stuff that I read. This is a novel that is written like a journal or diary or something along those lines. It basically skips over the details and lets you imagine the details on your own (you are basically doing the writing for the writer). The story itself is interesting and well made. I just can't get over the writing style. You will get use to it but for me the writing style is not for me. Story wise, Slice of life part is pretty good actually. Harem part of the story is basically PG-15 which means that sex scenes are left to your imagination (like everything else apparently.) Some part of the story would be hard to follow if there is no translator notes explaining things because you wouldn't know who is talking or it jumped scenes. Overall an average novel for me. It's missing a lot of details but if you like slice of life kind of novels and can get over the writing style and doesn't mind the little details then this will be a good read for you. I will still read this since I started it but I just hope the later chapters gets better and edit this review if it does.
RyuO
One of my 1st novels read, i like it very much
It's a peaceful slice if life novel with good MC , good girls, n good other characters
Im not good with reviws, but , give it a try, i dob't think u'll regret it , unless u dislike peaceful novels