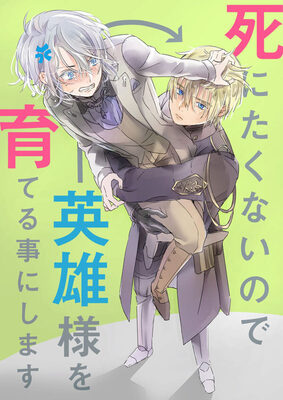 Nurturing the Hero to Avoid Death
Shinitakunai node Eiyuu-sama wo Sodateru Koto ni Shimasu
book 113 Chapters supervised_user_circle 35.9K Views bookmark 265 Bookmarked Ongoing Status
Nurturing the Hero to Avoid Death novel is a popular light novel covering Comedy, Fantasy, and Romance genres. Written by the Author Yomogino. 113 chapters have been translated and translations of other chapters are in progress.
Summary
"Please, I implore you to save the world." This is what a goddess in white says to me in a pure-white space. Such is the standard line that suggests the game is about to begin. Please say this stirring line to boys and girls with sparkling eyes! It's wrong to direct it to someone like me, who's exhausted from job hunting! When I declined her politely, she flew into a fit of tears; when I agreed to assist her on small tasks out of reflex, she proclaimed: "it'll be fine if you just help in the Starting-Village Arc. Please guide the Hero!" Then she tossed me into another world. No, this is a world modeled after a game that this gamer goddess likes…
Please share your thoughts to rate and score...
lnwUser14355
💖💖I love the way of this story going! Thanks for the author and the translator! I am so happy while reading it! 😍 I didn't even realize the time pass by while reading! 😚
Yokishko
This is very funny and quite entertaining, it might be the usual transmigrated into a game/novel type and into the villain character that becomes a love interest genre but the characters and progression of the story is very entertaining. I'm very fond of the MC, he's so funny especially when the ML (the protagonist) gets thrown into the mix. They're cute.