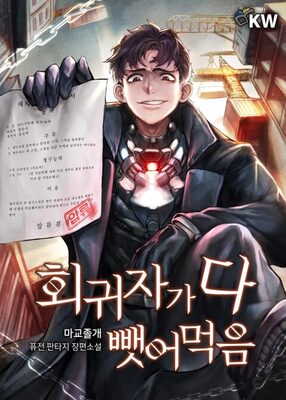 Regressor Takes Everything novel is a popular light novel covering Action, Adventure, and Comedy genres. Written by the Author Magyojolgae. 75 chapters have been translated and translations of other chapters are in progress.
Summary
Unique skill 'creditor' which can bet with its debtors on the unpaid debts.
[I define the debt conditions.] [To debtor 'world', enforce compulsory execution. Extend capability after regression.]
And the ability to take skills and stats!
Kang Yoo-sik's chance to start a new life at the Hunter Military Academy.
Please share your thoughts to rate and score...
Sagittam
-Regressor takes all-
If you like MCs who have a twisted personality, this is your cup of tea and mine.
Many novels with the plot of hunters, dungeons and reincarnators have already been known, but the manipulation and plans of the protagonist will make you feel that it is not a waste of time to read this.
The Bad: It doesn't focus on its supporting characters and loses details of their story and personality. This makes the novel appear to be developing rapidly.

Review written in chapter 26 and waiting for more chapters
Temi
So I started it not knowing what to expect. The translations a little rough but honestly its a real fun story. Wholy recommend it for a fun way to kill time.

SOVEREIGNBOSS
This looks interesting i will give it a go and will tell you about my experience. The following words are cuz I need to write minimum 140 words. Ok bye