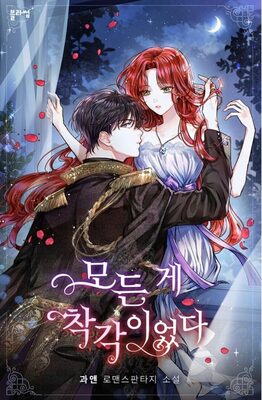 Everything Was a Mistake
모든 게 착각이었다
book 48 Chapters supervised_user_circle 37.3K Views bookmark 954 Bookmarked Ongoing Status
Categories
Everything Was a Mistake novel is a popular light novel covering Drama, Fantasy, and Historical genres. Written by the Author Guayen. 48 chapters have been translated and translations of other chapters are in progress.
Summary
Roa Valrose reincarnated as a villainess in the book. In order to avoid the fate of being burned at the stake, she approaches the hero, Nocton Edgar.
It hurts every time she get closer to him. Nevertheless, for her survival, she does everything he wants her to do.
"Come again, Valrose."
The mysterious Nocton unexpectedly sought her out every day.
Then one day, her friend for 10 years says something unknown to her.
"Actually, I have a dream. The Duke of Edgar is a terrible villain!"
He is not the hero, but the villain?
As soon as she realized that she had misinterpreted the role, she decided to get away from Nocton.
"Let's not meet anymore."
But the villain's reaction was strange.
"Don't go. You've always been special to me."
She was suspicious of his sudden change of attitude.
Will she able to get rid of Nocton safely?
Please share your thoughts to rate and score...

Shesays
It screams of girl (FL)awakening from stockholm syndrome but i really want to know why she was in it for 10 years and desperately hope for the ML's reedeming qualities

Tallaveragejoe
Its a really good story overall, and its not a typical isekai romance novel, since the plot was never the same as the story. Its very entertaining.

Morrighan
The translation is pretty painful for a while; it feels like someone ran it straight through Google Translate, but I think it does improve later. I read the manga first and came here for more of the story, because the story itself is pretty good. More please!