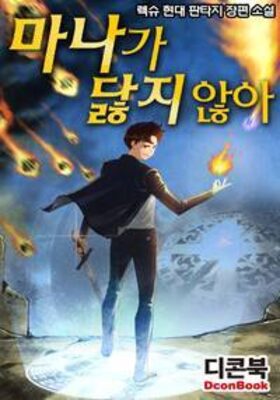 I Never Run Out of Mana
마나가 닳지 않아
book 197 Chapters supervised_user_circle 207K Views bookmark 577 Bookmarked Ongoing Status
Categories
I Never Run Out of Mana novel is a popular light novel covering Action, Adventure, and Fantasy genres. Written by the Author Rekshu. 197 chapters have been translated and translations of other chapters are in progress.
Summary
Have you ever seen a hunter spamming infinite meteors?
That's me.
It is now 40 years after monsters started appearing in the world and with it, Awakened. Min-Cheol feels that life is unfair, comparing his life to the ones which the Awakened lead. After a scuffle with one of the Awakened, he gains an ability which allows him to have infinite mana.
Please share your thoughts to rate and score...
lnwUser15093
I like this and the guy who gave it 2 stars (zer007) is a piss baby so ignore him. The mc gets infinite mana, fucks some people up and dip, simple as that but ay
Zer007
42 Chapters in, and I still don't understand the mc's thought process even when the entire story IS his prospective.
1: Quits suspicious guild
2: Few months later, suspicious guild has an assassin watch him and probe his abilities by hitting the mc one time. But the mc blocked the attack
3: Suddenly provoked, he decides he wants to attack the entire guild not only knowing he has his mother he needs to be protecting. But is unaware of the guild member's full capabilities, unaware of the organization they stand for that causing him to be suspicious of them in the first place. And doesn't have a valid reason to back up his reason for attack, that could help him you know, NOT GET ARRESTED for barging and attacking and entire guild.
It's just stupid..
Continuing to read.
Zer007
To be completely honest.. This story is kinda Garbo.. Reading it was painful. Now no, it's not the translation that's the problem, it's the story itself. The idea isn't bad. But the way it's told just gives me the impression that the author is an amateur.. It's rushed..
The mc: Not very smart.. at all, he's clueless about everything. Despite wanting to be awakened for God knows how long, he knows nothing about them, didn't study or anything. Unaware of even the basics or understanding. which was a stupid decision, all the character does is ask a bunch questions to random people. Also this character is supposed to be the "Lack of Trust" type, but he literally does everything completely opposite of what someone who lacks trust would do. Which is have such a sense minutes after saying they don't trust anyone. Completely destroys his character.. From my perspective, He's nothing but a normal kid who suddenly got and OP power and doesn't know anything about the world he's living in. Basically giving a detonator of an atomic bomb to a four year old.
Also they have a character whom the mc trusts, but suspicious of, because his friend tells him their involved with shady business. This is supposed to give anticipation and ask questions trying to think about it. NOPE 1 or 2 chapters later we are told about it and everything is exposed to us... Us only.. the mc wasn't even apart of it, so now we are spoiled and the mc didn't gain anything from it. Ruined the big moment with a single pointless chapter.. didn't have to be there..
Well there's my pointless rant, take what you want from it, it was the result of reading just 27 chapters... I'll try to continue reading and maybe my opinion about it will change...