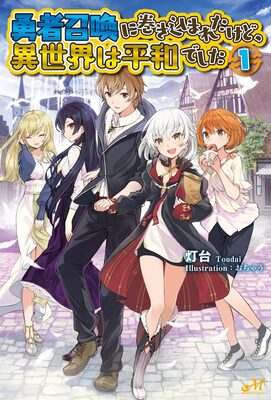 I was Caught up in a Hero Summoning, but that World is at Peace
Yuusha Shoukan ni Makikomareta kedo, Isekai wa Heiwa deshita
book 439 Chapters supervised_user_circle 154K Views bookmark 435 Bookmarked Ongoing Status
I was Caught up in a Hero Summoning, but that World is at Peace novel is a popular light novel covering Adventure, Comedy, and Fantasy genres. Written by the Author Toudai. 439 chapters have been translated and translations of other chapters are in progress.
Summary
Suddenly appearing in a different world, it looks like I got caught up in a Hero Summoning. And of course, I'm not the Hero, but it's another guy……and while being very cautious and scared of the cliche of the cliche-like development, I was thrown into the maelstrom of war……or not.
The Demon Lord? It was defeated a thousand years ago. Hero? He's just the main actor in a festival. Nobles? They're kindly taking care of us. The Demon Race? They have good relationships with Humans. Wars? It's already 800 years since the last one. Monsters? The Guild and Order of Knight are taking care of them. Return to Earth? It is eventually No-Risk.
What I'm planning after being caught up into this? I'm gonna enjoy the life in a different world as much as I want to, go on a cultural exchange and sightseeing, and after experiencing the festival that is only held once every ten years……I shall go home safely.
The other world was――at Peace.
A kind world where the three races, the Spirit World's Magical Races, the Celestial World's Divine Races, the Mortal World's Human Races, they are kind neighbors to each other, with everyone living a peaceful and fulfilling life.
But although I wished to peacefully spend a year before my return, for some reason, the heavyweights of this world keeps gathering around me, and……
Please share your thoughts to rate and score...

lnwUser26338
Great story, hats off to the author. I've just one question$$$$$$$$$$$$$ when is the male lead going to come out of the closet and admit he's gay ?
rohit
As someone who has read a lot of this genre (isekai, slice of life) i can say this novel is pretty good. It has a fair balance of cliche and tropes.
RyuO
It's a pretty good novel, it's a warm n happy novel, the MC is ur typical let's-hold-hands-first japanese, but i recommand it , i follow this on the translator website so idk if there are the author note at the end of every chap which pretty hilarious so i hope they'll be included