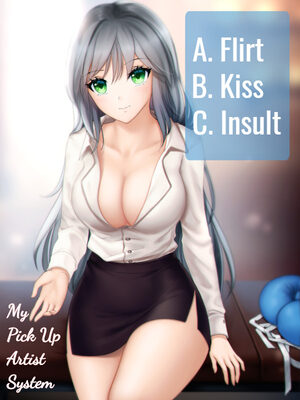 My Pick Up Artist System
book 224 Chapters supervised_user_circle 244K Views bookmark 521 Bookmarked Ongoing Status
Categories
My Pick Up Artist System novel is a popular light novel covering Magical Realism, Comedy, and Harem genres. Written by the Author SamsaraWithWords. 224 chapters have been translated and translations of other chapters are in progress.
Summary
"With this system, I'll become the world's greatest seducer! If it doesn't kill me first..." I was a nobody, a short fatty Otaku. Then a girl's voice popped into my head: [Seduce a woman within a month or die.]
"What the hell...how? I'm an 18-year-old virgin..."
[7+ looks only. No slam donkeys.]
"You're forcing me to die!"

Facing annihilation, I had no choice but to join the international community of pick up artists. That's how my boring student life became filled with craziness and womanizing. I just had one problem: "Why are these guys all insane?"

Pick Up Artist: One who uses specialized tactics to seduce women.

Additional Tags: weak to strong, supernatural, fantasy, funny, dungeon, face smacking, bloodlines, modern, harem, r-18, litrpg,magic, cultivation, martial arts, shameless protagonist, parody, satire, succubus, netori, adult, ecchi, sex, hidden gem, drama, wuxia, adventure, mature, school life, seinen, princess, billionaire, werewolves, xuanhuan, erotic, erotica, romance, revenge, polygamy, psychological, r18, 18, 18+, smut, hentai, comedy, light novel, alchemy, system.

*If you're wary of reading originals, I assure you that I'm a native English speaker and you'll find the writing here to be at a professional standard.

RELEASE SCHEDULE: 1 new chapter posted every day by 12 pm Est/12 am GMT+8. Bonus chapters don't have a set time, but if there are some pending, on per day is posted for 2 chaps/day total.

Join the Discord of 1500+ readers for character art: https://discord.gg/VSKzgzV8J9 (case-sensitive)

If you'd like to make a Paypal donation to support the cultural cause of the novel and author: https://bit.ly/3lU4xD1

A big shounen thank you for the anime/manga cover character to https://www.deviantart.com/kirayamato74 and https://www.deviantart.com/gigamessy
Please share your thoughts to rate and score...